February 03, 2023, 04:14:57 AM






<![endif]-->
Let's spread the word about The World Bukkake Tour: come on guys, give your contribution!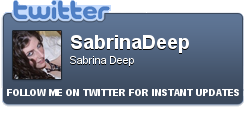 Show Posts
Pages: [1]
4
General Talk / General Forum / Washington DC Area party with Sabrina
on: October 27, 2010, 10:36:48 PM

I want to put in an application to bring Sabrina to the Washington DC area, but I need to put together the requisite number of people in order to submit the application. So I'm hoping guys in the DC area (MD and NOVA) will reply and hopefully we can make this happen!!!